Mongrel 1st Birthday Bash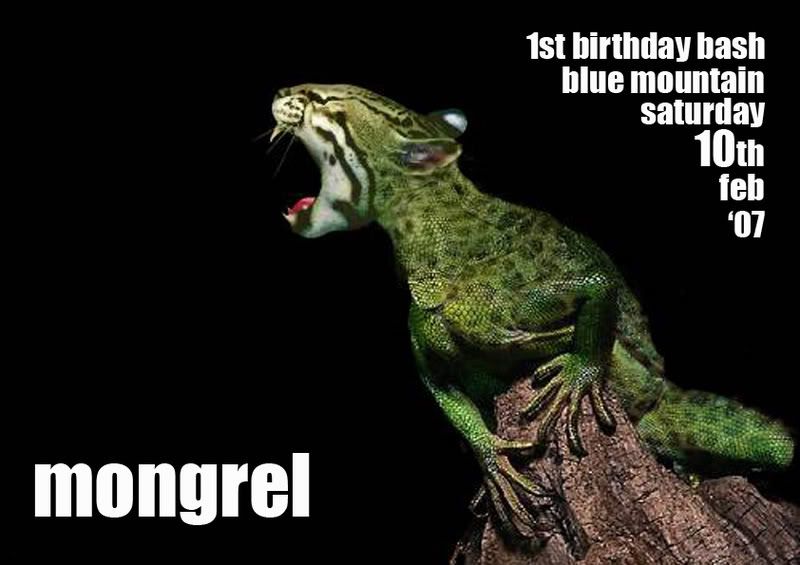 Mongrel's first birthday bash and we got a line up to span the jungle spectrum like a fat boy straddling a tricycle. See for yourself:
Room One: raggajungle / dnb / breakcore / mongrelsounds.
AARON SPECTRE (Death$ucker / Ad Noisium / Cockrock Disco / Mashit / Kriss / Berlin)
MURDERBOT (Dead Homies / Mashit / USA)
DIAMOND GEEZER (One Drop Sound / N20 / Freeburning)
THE SECT (offkey)
SVENGALI (junglemongrel / uraggatang)
PORKCHOP (dongrel / leandoginc)
Room Two: roots / reggae / dub / dancehall / breakcore / hiphop
RAM-BOY (passion fm/italy)
SKYLION (canejuice/grassroots)
MIDAS (P.R.A.N.K)
DJ TELE (soundwarr/mongreldub)
BEATAMAX (new york, paris, peckham)
EWANHOOZARMI (lean2/wax lyrical)
plus vocals from TALL RICH
In room one I think we can build a really interesting progression of the music from Murderbot's more soulfull style through to Aaron's belting breakcore with Diamond Geezer somewhere in between. Throw some heavy dnb into the mix with The Sect and we should have a jungle bonansa to remember. Room two as always will provide some respite from the jungle pit with Bristols finest reggae djs. We'll also be joined by Ram-Boy from Italy - you can catch him on Passion fm on Thursday nights. Blue Mountain turned out to be an excellent venue for us at the last one so we're staying put for once - who knows it may turn into our permanant home. I was a bit worried about the sound in there from previous events but we brought a few extra speakers with us in November and I thought it was sounding good so we'll do the same again. For those of you with some stamina you'll be pleased to hear we've asked for an extra hour and got it til 6 in the morning. With the long old line up we've put together we needed to stretch it out. Come wish the Mongrel your best.
FFI:
www.myspace.com/mongrelbristol