BATTLE GROUNDS PT 2!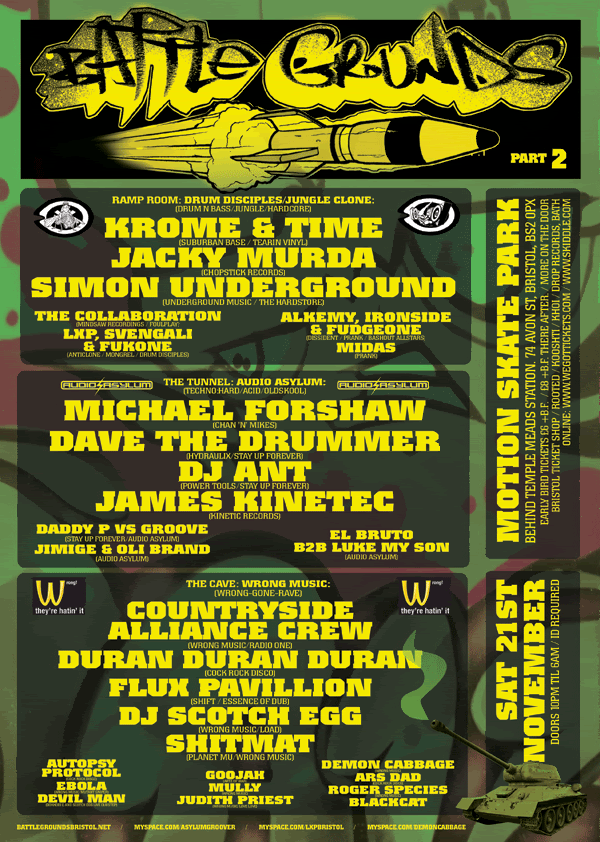 BATTLEGROUNDS
Returns for part two of the motion monster massacre of 2009. Audio Asylum, Drum Disciples/Jungle Clone and Wrong Music collaborate once again for your extreme bass pleasure with a blend of legends from the old skool to the talent of the future. Boasting 70k Hi-spec FUNKTION ONE & VOID soundsystem set up accross the club with live lighting, lazer and visual displays, cage dancers, superheroes and a reliant robin spouting flames. Outside provides live graffitti on the terrace with sideshow Roj rippin the west coast styles, records stalls, Anticlone merchandise and giveaways plus so many extras you just cant miss, saturday 21st Novemeber....THE RAVE IS ON.. :lighter:
RAMP ROOM: DRUM DISCIPLES/JUNGLE CLONE: (Drum n Bass/Jungle/Hardcore)
KROME and TIME(Suburban Base / Tearin Vinyl)
JACKY MURDA (Chopstick records)
SIMON UNDERGROUND(Underground Music / The HardStore)
THE COLLABORATION(Mindsaw Recordings / Foulplay)
LXP, SVENGALI and FUKONE (Anticlone / Mongrel / drum disciples)
ALKEMY, IRONSIDE and FUDGEONE (Dissident / PRANK / Bashout Allstars)
MIDAS (prank)
THE TUNNEL: AUDIO ASYLUM: (Techno:Hard/Acid/Oldskool)
MICHAEL FORSHAW (LIVE) (Chan 'n' Mikes)
DAVE THE DRUMMER (LIVE) (Hydraulix/Stay up forever)
ANT (Power Tools/Stay up forever)
JAMES KINETIC (Kinetic Records)
DJ PARKER VS GROOVE (Hazchem/Audio asylum)
JIMIGE & OLI BRAND (Audio asylum)
El Bruto B2B Luke my son (Audio Asylum)
THE CAVE: WRONG MUSIC: (Wrong-gone-rave)
Countryside Alliance Crew (Wrong Music/Radio One)
Duran Duran Duran(Cock Rock Disco)
DJ Scotch Egg(Wrong Music/Load)
Shitmat (Planet Mu/Wrong Music)
Flux Pavilion (Shift / Essence of Dub)
Ebola (Wrong Music/Mutant Sniper)
Devil Man (Dokkobi Q and Scotch Egg Live Dubstep)
Mully (Wrong Music)
Judith Priest (Wrong Music/Love Love)
Demon Cabbage (Wrong Music)
Goojah (Artz Of War)
Dj Tendraw (Gluerooms)
Autopsy Protocol (Day Of The Droids Recs/Peace Off/Cock Rock Disco)
Narcopsy (Melting Pot/Cock Rock Disco)
Ars Dada (Cock Rock Disco)
Roger Species (Wrong Music)
Blackcat
Tickets
The £8 tickets have just been released, available from these great outlets:
Bristol
Bristol Ticket Shop
26 Union St
Broadmead, Bristol, BS1 2DP
0117 929 9008
Rooted Records
9 Gloucester Rd
Bishopston, Bristol, BS7
0117 907 4372
Kooshti
Bath
Drop Records
27 Broad St
Bath, BA1 5LW
01225 444 577
Online from
http://www.bristolticketshop.co.uk/
http://www.wegottickets.com/event/61938
ADDRESS:
74-78 Avon Street
St Philips
Bristol
BS2 0PX
JOIN THE BATTLEGROUNDS GROUP!
http://www.facebook.com/group.php?gid=44728899935